Baker Mayfield has endured a lot during the 2021 NFL season. A torn labrum, a fractured humerus, being scapegoated for pretty much anything that goes wrong for the Browns, questionable play calling, a WR1 who ran his own routes, that guy's dad, and the local media (specifically Grossi). The list goes on.
The statement win in Cincinnati could not have come at a better time for the Browns and their quarterback. The defense started the fire with a 99 yard pick six from Denzel Ward. Mayfield played ok despite not having OBJ on the roster.
DPJ. 60-YARD TD.

Baker dropped it in the bucket 🎯

(via @nfl)pic.twitter.com/epeu7pJzDH

— SportsCenter (@SportsCenter) November 7, 2021
Baker Mayfield: Highest-graded QB in Week 9 👀 pic.twitter.com/vNqyFANS6e

— PFF (@PFF) November 8, 2021
Amidst the chaos, Baker and Emily Mayfield have been taking time and effort to give back to the community. They have been doing so with a quiet and 'behind the scenes' approach. The stories are simply touching, and a gentle reminder that a small act of kindness can impact someone's world more than you would imagine.
---
Domonique and Perez
On a Browns Facebook group, Perez Bryant posted the above picture of his older brother Domonique. The post was made in March in honor of Cerebral Palsy awareness month and the biggest Browns fan he knows (his brother, Domonique)
From the bed spread to the curtains, Domonique has a room filled with all things Cleveland Browns. However, Domonique had never been to a game in FirstEnergy stadium. Perez felt it was his duty to someday get his older brother to a Cleveland Browns game. ENTER EMILY MAYFIELD.
On a Wednesday, Perez was anonymously transferred two lower bowl tickets to the Thursday Night Football game against the Broncos. He immediately relayed the information to his brother.
Pretty cool video of Perez telling his older brother Domonique that they are going to tonight's #browns game.

Fun Fact: the tickets came from The Mayfields 🤝#brownsconfirmed pic.twitter.com/lnbkDdbAPT

— angrybrownsfans (@angrybrownsfans) October 21, 2021
(They didn't find out until later that the tickets came from the Mayfields).
While the rest of us were sweating bullets at the concept of the Browns playing a game without Mayfield, Chubb, Hunt, and virtually every starter on the offensive line, these two were on cloud nine. The first lady came down to visit Domonique and Perez before halftime.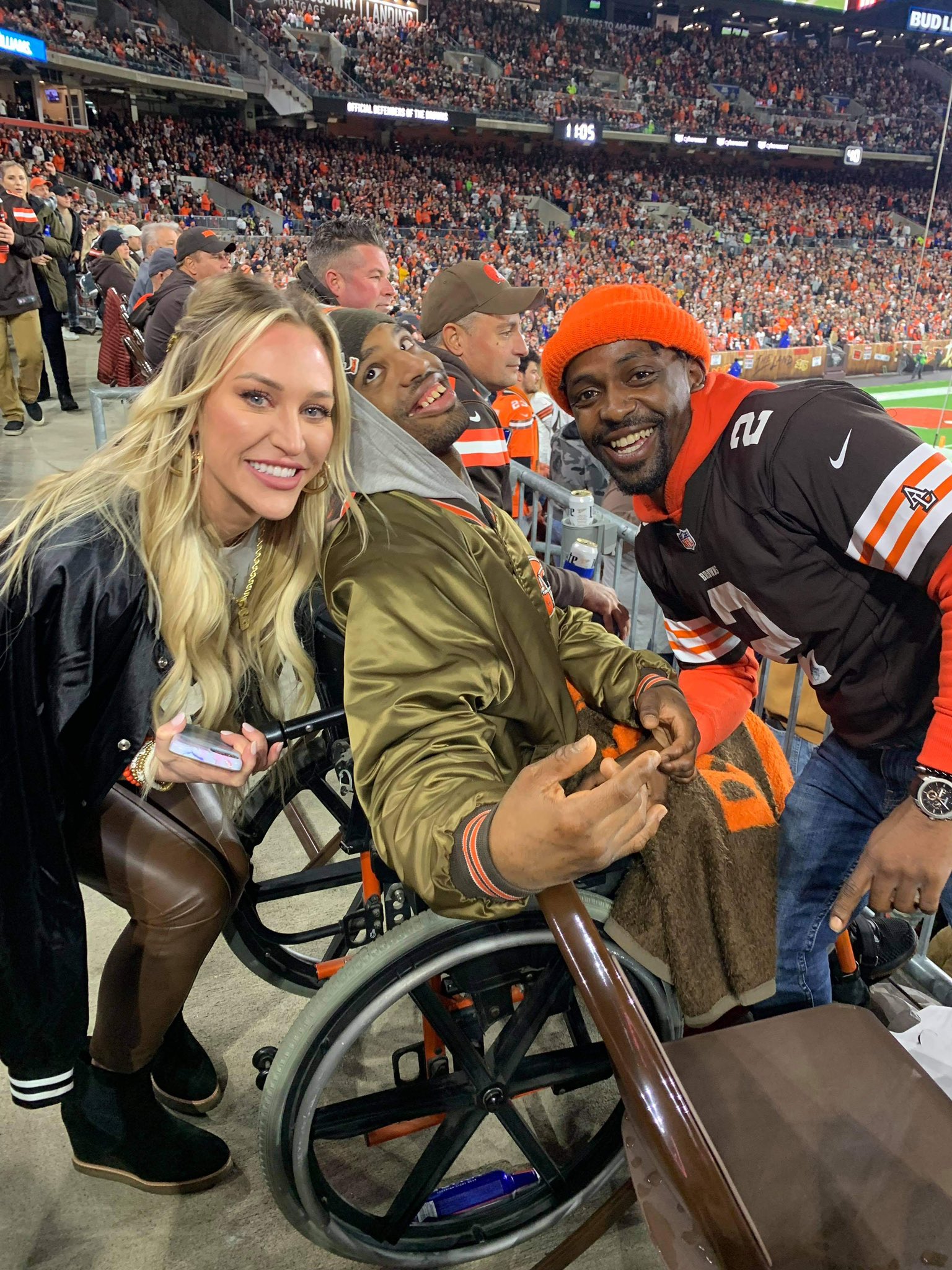 The Browns had not beaten the Broncos at home for over 30 years. Domonique and Perez casually enter FirstEnergy Stadium and end the streak. Emily sent the two brothers signed Baker and Chubb jerseys. She sent their mom (who is my favorite part of the video) a JOK jersey. Perez said the whole thing was a dream come true for the two brothers.
---
Dakota and Mike
Dakota and his father Mike Berry are two Browns fans from Oklahoma. Like many diehard Sooner fans, they became Browns fans because of Baker Mayfield. Dakota was born with Osteogenesis Imperfecta, commonly known as brittle bone disease.
Dakota, 26, has been an avid sports fan his entire life. He has a heart of gold and a top tier sense of humor. In 2017, he posted an Instagram video showing the hole he put in his desk during a disappointing OKC Thunder playoff game. We've all been there.
Oklahoma is one of those states whose geography does not clearly tie its residents to any one NFL team. It is scattered with fans of the Cowboys, Chiefs, Broncos, and the Browns (more recently). Dakota has also been a Vikings fan since 2007 because of Adrian Peterson (another OU guy). When the Mayfields found out about Dakota's predicament, they made arrangements to ensure his NFL allegiance remained with the Browns entirely.
Dakota is an Oklahoma Sooners fan that became a Browns fan because of Baker.

He's also kind of a Vikings fan because of Adrian Peterson.

Emily and Baker Mayfield found out about the situation and decided they wanted full custody. #Browns confirmed 🤝. pic.twitter.com/lBrcQysRfA

— angrybrownsfans (@angrybrownsfans) October 27, 2021
The above video is Dakota's dad (Mike) telling his son that they would be attending the Browns Steelers game courtesy of Cleveland's first family. Dakota's response "I hate the Steelers, I love this" is iconic. The Mayfields took care of all the travel arrangements (there was a guy with a sign waiting at the airport 🤝) , put them in the a hotel downtown, and of course provided them with two A1 tickets on the 50 yard line.
Dakota had never experienced a tailgate before. The boys bundled up and went to a tailgate hosted by Brian Szabo (veteran, great dude, and owner of this kickass clothing company 🤝). They enjoyed good food, drink, and laughter amongst fellow Browns fans. For those wondering, Dakota can crush beers.
The boys had a blast (despite the Browns falling short against the Steelers that day). The Browns community showed the two Sooners true hospitality. A decent amount of people had heard the story as it was unfolding and introduced themselves to Dakota and Mike, taking pictures, talking Browns, and barking (all the good stuff). The image of a father and his son walking over the bridge to their first Browns game is my personal favorite- see below:
The one that matters most 🤝. #Browns #confirmed pic.twitter.com/G1GVwVvoEu

— angrybrownsfans (@angrybrownsfans) October 31, 2021
The boys were interviewed by an Oklahoma news outlet earlier this week. They are doing their part in converting the masses into Cleveland Browns fanhood.
Dakota Berry and his dad were interviewed by an Oklahoma news station recapping their first in person Browns experience. The Mayfields take care of people. (Via @KSNLocalNews) pic.twitter.com/UZT73h8NwV

— angrybrownsfans (@angrybrownsfans) November 12, 2021
Good on the Mayfields for going out of their way to give these families the experience of a lifetime . Contrary to what many armchair quarterbacks would argue, being a quarterback in the NFL is not easy. The quarterback position in Cleveland has not exactly boasted a lot of job security over the years. Despite the physical and mental toll that comes with playing in the National Football League (let alone playing quarterback in Cleveland), it's a breath of fresh air to see Baker and Emily Mayfield quietly take care of those in need.
They don't perform these acts of kindness because they HAVE to, nor do they do it for attention. They are the type of people that live for this stuff.
They get it.
Browns Confirmed 🤝.
And buy a sensibly priced shirt from Szabo Apparel Company 🤝
(Also, the Ravens lost to the Dolphins last night)